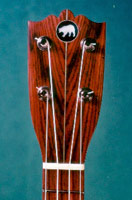 Welcome! Thank you for your interest in my work. My name is Duane Heilman, and I am a luthier and owner of Black Bear Guitars and Ukuleles, a one man shop located in Yakima, Washington, in the U.S. I have been designing, building, and repairing stringed instruments since 1991, and creating ukuleles since 1998. My designs and construction techniques have grown out of years of study and observation of vintage and modern ukes. I try to incorporate my own artistic sense into each instrument as well, and sometimes the results can be quite different and full of surprises -- even to me!
I make only one-of-a-kind type ukes, and offer them for sale on here, on eBay under items by seller "folkmusic" and on Jim Beloff's Flea Market Music web site under the Marketplace Ads. I also make guitars and other instruments. If time permits, I take an occasional commission or order. Except for those on the "Items for Sale" page, the instruments shown here are for viewing pleasure as they have been sold.
If you have any questions or need additional information, you can contact me by email or by phone at (509) 965-4333. You are welcome to come by the shop, but visits must be set up in advance. My usual shop hours are Monday-Friday, 8:00-12:00 and 1:30-5:00.
Thanks for visiting.
All the images and photographs shown on this site are the exclusive property of Black Bear Ukuleles, please do not use without permission.